Book excerpt: Deciding when to query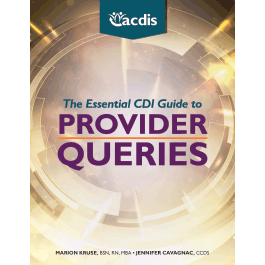 By Marion Kruse, BSN, RN, MBA, and Jennifer Cavagnac, CCDS
The decision of when to query the physician represents an important aspect of the CDI program. In a perfect world, all cases would be reviewed within the first 24 hours of admission. However, due to staff­ing considerations, this turnaround may not always be possible. Some argue that reviews performed too early result in unnecessary queries, because the physician may not yet have enough information to deter­mine the possible underlying diagnosis. Conversely, other programs support early reviews—including reviews in the emergency department—to ensure documentation of the underlying cause of admission and any present-on-admission indicators, and to help physicians capture appropriate documentation for their evaluation and management records.
At a minimum, reviews within the first 24 hours make the most sense. As the program matures (and the physicians' education levels increase), the CDI staff members may find that expanding to the emergency department makes sense or that reviewing the chart at the 48-hour mark is more efficient.
Reviews should be conducted based on a few priorities, including patients:
With a symptom diagnosis
With high-risk DRGs (pneumonia, sepsis, transient ischemic attack, etc.)
In DRGs with a relative weight of less than 0.6
Additionally, CDI staff should prioritize any open queries and follow up with physicians who did not respond to previous requests.
Any records that revealed no initial query opportunities should be reassessed on a 48- to 72-hour basis, especially as the patient becomes more stable and nears discharge. At this point, the CDI specialist should look for cases in which the following is true:
Only symptom diagnoses are documented
A CC/MCC is missing, despite the patient's extended length of stay
The length of stay is greater than three days without documentation of associated severity or risk of mortality
The patient discharge was expected but canceled
A stage 2 to stage 4 decubitus ulcer is documented, to capture potential documentation for exci­sional debridement
The patient is under respiratory management surveillance (potential ventilation or tracheostomy)
Editor's note: This article is an excerpt from The Essential CDI Guide to Provider Queries.