Book excerpt: Heart failure documentation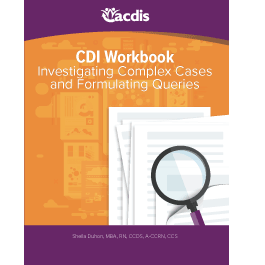 By Sheila Duhon, MBA, RN, CCDS, A-CCRN, CCS
The necessity for submitting a query to the provider for the specificity of heart failure seems to remain one of the leading reasons to query year after year, despite the efforts of CDI specialists to provide robust education around this diagnosis. The April 19, 2018, edition of CDI Strategies (the weekly electronic newsletter from ACDIS) revealed that CHF specificity and type topped the list of all queried diagnoses at a whopping 90.59% rate. Clearly, we still have a long way to go with educating our providers to document the complete diagnosis of congestive heart failure.
Heart failure is defined by the American College of Cardiology as a complex clinical syndrome that results from any structural or functional impairment of ventricular filling or ejection of blood. Systolic heart failure can also be documented as HFrEF while diastolic heart failure can also be documented as HFpEF.
When heart failure is the principal diagnosis, it drives the DRG to MS-DRG 291 (with an MCC), 292 (with a CC), or 293 (without an MCC or CC). While the specificity and type of heart failure will not change the DRG based on that information alone, it is still important to document the greatest specificity possible to ensure the highest level of accuracy in the medical record. Heart failure ICD-10 codes range from I50.1–I50.9 and include specificity for acuity and type. The etiology of the heart failure may direct you to an ICD-10 code outside of these. When the etiology is known, it is important to capture that in the documentation and coding. It's also important to note that heart failure is a CMS-Hierarchical Condition Category (HCC) for risk adjustment and stratification.
Terms such as "diastolic dysfunction" or "restrictive ventricular disease" are not synonymous with heart failure. When such terminology in the record is used interchangeably to indicate heart failure, the CDI specialist should query for the condition. Several clinical indicators are appropriate to use for clarification of heart failure, such as:
BNP
Echocardiogram results, including the ejection fraction percentage or terminology describing the nature of the heart failure
Radiology findings that describe patterns or evidence of pulmonary vascular congestion, fluid accumulation, or a transudative pleural effusion
Treatment with diuretics or fluid removal through dialysis
Physical exam findings of jugular vein distention (JVD), extremity edema, or SOB
Medications such as ACE inhibitors, beta-blockers, angiotensin II blockers (ARB), diuretics, and vasodilators; new drugs are constantly developed to treat heart failure, which affects nearly six million adults in the United States alone
Editor's note: This article is an excerpt from CDI Workbook: Investigating Complex Cases and Formulating Queries.