Book excerpt: Identifying physician training needs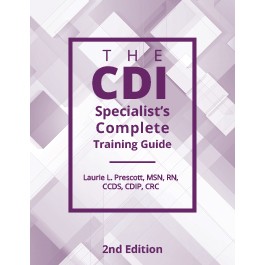 By Laurie L. Prescott, MSN, RN, CCDS, CDIP, CRC
What do physicians need to learn about CDI? Just about everything—up to a point. If you are joining a new CDI program, physicians likely need to learn what a CDI program is, how it functions, and how it can help them. They need a basic understanding of the inpatient prospec­tive payment system and Medicare severity diagnosis-related groups (MS-DRG) and how princi­pal and secondary diagnosis assignment is governed. Physicians are often confused about the demands of their professional billing compared to the requirements of inpatient documentation and coding. The more information the CDI program can provide, the more physicians will understand why CDI professionals ask the questions they do and what information they should include in their documentation to avoid queries.
Similar to the information a new CDI specialist might need to learn at the outset of their careers, physicians also need to understand:
How the need for a query is determined
How queries should be answered
How he or she should respond if the physician disagrees with the premise of the query
Whether queries are considered part of the medical record
The consequences for not answering a query
The expectations for physician compliance and cooperation with CDI efforts
Other educational topics include how:
Documentation becomes coded data (medical terminology versus coding language)
Data are used to create physician quality and efficiency profiles
Physician profiling is used to negotiate payer contracts
Documentation influences severity of illness and risk of mortality measures
Basic hospital reimbursement, including length of stay, relative weight, inpatient versus outpatient documentation, medical necessity, and Recovery Auditor efforts
Certain conditions constitute hospital-acquired conditions
Documentation of present on admission status matters for final coding
How complication documentation affects code assignment, reimbursement, and quality scores
The lists above are a start. All departments (from the medical staff to the CDI and coding teams) will also need ongoing training as codes and reimbursement trends shift.
If you are joining a well-established program, the physicians at your facility will likely be aware of CDI efforts and the query process but will need refresher sessions regarding documentation required for certain tricky diagnoses, such as sepsis or acute renal failure. As CDI program priorities shift, additional documentation improvement focus areas will also come into play, such as documentation for readmission reduction, patient safety indicators, or other metrics.
The principal mode of identifying training topics comes from auditing and monitoring query efforts. While your CDI program manager, director, or physician advisor may conduct this analysis on a formal basis, you, as the CDI specialist working most closely with the physicians on the facility floor, need to monitor your own query and education efforts and raise any poten­tial concerns as needed.
Editor's note: This article is an excerpt from The CDI Specialist's Complete Training Guide, Second Edition.