Book excerpt: Review prioritization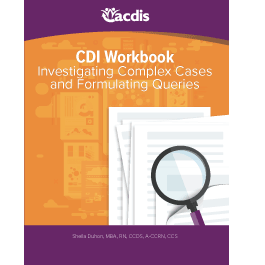 By Sheila Duhon, MBA, RN, CCDS, A-CCRN, CCS
Prioritization of reviews begins with defining the population of cases to be evaluated. This should align closely with the mission of the CDI program. If the mission is largely revenue driven, the most populous payer populations may be a primary filter in determining which cases the CDI specialists review. This was often the case in the beginning stages of CDI program development. Most programs, however, have evolved to include all payers as a matter of avoiding implications of impropriety.
Quality-driven CDI programs are keenly sensitive to hospital-acquired conditions (HAC), patient safety indicators (PSI), mortality associated data, and other quality data reported publicly.
No matter the focus of the program, it is essential that a well-defined process is established to determine workflow and impact for the organization in alignment with the CDI program mission.
Regardless of the program's focus, the development of robust and complex, artificial intelligence–based systems in the field of CDI has presented CDI specialists with opportunities to impact the integrity of the medical record in more efficient ways than ever before. The days of paper-based CDI reviews are becoming almost nonexistent in giving way to the more efficient Health Level Seven International (HL7)–driven interface between the electronic health record (EHR) and the CDI review platform.
For those who don't know, an HL7, according to TechTarget, is "a set of standards, formats and definitions for exchanging and developing electronic health records (EHRs). HL7 standards, developed and promulgated by the healthcare IT standard-setting authority HL7 International, are the de facto standards in healthcare IT, though some HL7 users have called on Congress to create stronger legal interoperability standards for the healthcare IT industry."
Editor's note: This article is an excerpt from CDI Workbook: Investigating Complex Cases and Formulating Queries.