Book excerpt: The value of E/M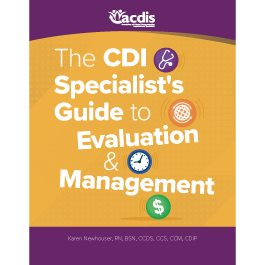 By Karen Newhouser, RN, BSN, CCDS, CCS, CCM, CDIP
Historically, providers outside of the hospital setting assigned their own codes. With increasing administrative demands placed on physicians in the quest to demonstrate the quality of care provided, it is challenging for them to remain up to date with documentation best practices to capture precise coding never mind understanding the changing rules governing code assignment needed to code the record themselves.
The evaluation and management (E/M) system reflects the cognitive work of establishing a diagnosis and supporting that diagnosis with documentation. Those cognitive skills are primarily used in medical decision–making that CDI professionals typically analyze during an inpatient record review.
As in the inpatient environment, the only people who are aware of the quality care given to the patient are those present in the moment. Without clear and precise documentation of the quality of the care provided to a patient, that knowledge remains within the confines of the facility, with ramifications of perceived lower patient outcomes, sub-optimal publicly reported scores, erroneous reimbursement, and incomplete communication between care environments as the patient transfers to a nursing facility, for example, with the latter having the potential to cause harm to the patient.
Additionally, government and private payers pay close attention to the E/M codes assigned in an ongoing effort to prevent waste, fraud, and abuse. In a 2012 study report, entitled "Coding Trends of Medicare E/M Services," the Office of Inspector General (OIG) noted that a number of physicians increased their billing of higher–level, more complex, and more expensive E/M codes (http://go.cms.gov/oig-coding-eval-mgmt). Many providers submit claims coded at a higher or lower level than the medical record documentation supports.
In 2010, E/M payments cost Medicare $32.3 billion—about 30% of all Part B payments that year—and of that amount, about $6.7 billion were incorrectly coded or documented, according to an OIG report released in May of that year (https://oig.hhs.gov/oei/reports/oei-04-10-00181.pdf).
E/M service payments—the principal payment method for physicians—resulted in a projected $4.5 billion in improper Medicare payments in 2014, accounting for 9.3% of the overall improper payment rate for Medicare fee-for-services, according to Centers for Medicaid & Medicare Services' (CMS) April 2016 Medicare Quarterly Compliance Newsletter (www.cms.gov/Outreach-and-Education/Medicare-Learning-Network-MLN/MLNProd...).
CMS' Comprehensive Error Rate Testing (CERT) program looked specifically at observation services and found that most improper payments were due to insufficient documentation, such as a lack of a physician order, physician signature, or progress notes, according to an April 21, 2016, article in CDI Strategies (News: E/M services remain a leading cause of improper Medicare payments).
For example, an internal medicine specialist's bill lacked signed and dated physician orders for observation services, was missing a signed and dated progress note for the face-to-face encounter on the date of service, and, although the submitted documentation included a discharge summary, did not include documentation of a visit with the patient. In this case, the CERT reviewer requested the documentation but only received a history and physical from the day before the observation date of service, signed by a different physician. The claim was scored as having insufficient documentation, and the Medicare Administrative Contractor recovered the payment.
Such problems with documentation and E/M code assignment only emphasize the complexity of this particular coding system. The opportunity exists for CDI programs to help physicians in both the inpatient and outpatient settings to ensure that their documentation meets the E/M coding requirements and can withstand medical necessity scrutiny.
Editor's note: This article is an excerpt from the CDI Specialist's Guide to Evaluation and Management.