Note from the Associate Editorial Director: A fresh look for the ACDIS logo
by Linnea Archibald
Springtime is a season for renewal and fresh outlooks. As temperatures rise here in Massachusetts and more people receive their COVID-19 vaccines, offering a glimpse of light at the end of the pandemic tunnel, I can't help but feel hopeful.
As most people do when the ground begins to thaw, I've filled these last couple months with cleaning, decluttering, rearranging, and refreshing. From closet cleanouts, to rearranging my home office (it only took me one full year of working from home…), things are beginning to feel fresh and new.
My  home and personal outlook aren't the only things that have gotten a bit of a springtime refresh though. Those who have been with ACDIS for a while have seen the association shift and change through the years—new website designs, revamped publications and schedules, fresh educational offerings, the change from "improvement" to "integrity."
Through it all, even when our name changed slightly, our logo has remained the same.
Just in time for warmer weather, however, we've decided it's time for a logo refresh. We believe this new logo provides a fresh face for ACDIS, representing the association's and the CDI profession's forward-looking posture, while also highlighting the positive and fun nature we see in our members. Without further ado, our new logo: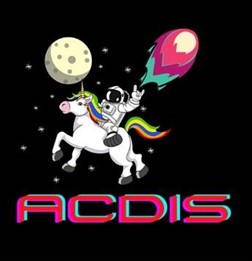 …
…
…
Happy April Fools Day!
While I hope that made some of you question our sanity at least for a moment, my guess is that you didn't fully believe we had rebranded to include a unicorn-riding astronaut in our logo.
All jokes aside, ACDIS really has updated our logo recently and you may have already seen it cropping up on the website over the last couple of weeks. While not as drastic a change as the logo above, our new logo features brighter colors and fonts and provides an overall updated, modernized aesthetic. The real new logo is:

To celebrate our (real) new logo, we've recently developed some brand-new ACDIS swag and updated our merch store accordingly. In our new store, you'll find t-shirts (short sleeve, V-neck, and long sleeve varieties), sweatshirts, polo shirts, tank tops, tote bags, and (my personal favorite) baby onesies. If you end up purchasing anything from our store, we'd love to see it! Please do send along pictures of you representing ACDIS in the wild (especially if the picture includes a cute baby).
While our logo may be new, ACDIS remains your CDI association and, as always, feel free to reach out if you have any questions.
Editor's note: Archibald is the associate editorial director of publications and membership for ACDIS. Contact her at larchibald@hcpro.com.