Note from the Associate Editorial Director: The benefits of volunteer work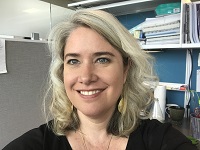 By Melissa Varnavas
The conversation bounced around the importance of building a community of caring. The speakers talked about the development of family and the communities that extended families create. They also spoke of changing societal norms which make geographic, topic-focused, and virtual communities essential to not only personal happiness and wellbeing but also to our professional growth and mental health.
I was listening to a podcast on my commute home the other night, taking this all in, and contemplating our own recent call for volunteers to serve on ACDIS' boards and committees, thinking about the various communities of caring that being an active participant in the association creates.
During a recent call with the ACDIS Chapter Advisory Board, I asked the group whether they'd be able to remain on as volunteers for 2019 and although a number of the team needed to rotate off, the group offered unanimous accolades for the outcomes their participation.
"The advanced networking and connections that being a part of the Chapter Advisory Board has afforded me has been really tremendous," said Molly Seibert, past-president of the Oregon ACDIS chapter. "Not only for the interesting information being shared with and by fellow chapter leaders on how to facilitate meetings but as contacts on other concerns and questions I've had on a number of CDI concerns."
Volunteering and helping others can reduce stress, combat depression, keep you mentally stimulated, and provide a sense of purpose, according to an article on HelpGuide.org International. It lists four principal benefits to volunteering including:
The application period for board and committee applications is Friday, January 25. We hope you'll consider volunteering and look forward to working with you in 2019 and beyond.
Editor's note: To submit your application to serve on an ACDIS board or committee, click here. Varnavas is the associate editorial director of ACDIS. Contact her at mvarnavas@acdis.org.